This class will introduce students to the joys of making music with your feet! Students will become familiar with jazz music and swing rhythms, will learn basic tap dance steps and will explore body-music connections through percussive dance. Young dancers will be given opportunities to play and create rhythms through improv games and will be introduced to people who made significant contributions to jazz music and tap dance.
Visit these NYC dance shoe stores to be fitted for and purchase shoes:
Capezio
1650 Broadway (entrance on 51st St.) 212-245-2130

201 Amsterdam (at 69th St.) 212-586-5140
Sansha
888 8th Avenue (entrance on 53rd St.) 212-246-6212
On Stage Dancewear
197 Madison Avenue (b/w 34th and 35th St.) 212-725-1174
10 week session for beginners Grades 3-5 Saturdays @4:30pm
March 23rd, 30th, April 6th, 13th, May 4th, 11th, 18th, June 1st, 8th, 15th
Brooklyn-based dancer and educator Suzannah Taylor has worked in theaters, classrooms and communities around the world. She has performed in shows at the Lucille Lortel Theater, Symphony Space, Don't Tell Mama's, Tap It Out-Times Square, and with numerous touring companies and regional theaters. Her work as an educator has taken her to classrooms in Mali, West Africa and across NYC. She currently works with newcomer teens at a high school in Brooklyn. Suzannah is committed to nurturing creativity, expression and self-awareness in students of all ages. She is grateful to her own teacher and mentor Barbara Duffy.
Register for Rhythm Tap and Percussive Movement!
Tap Shoe Recommendations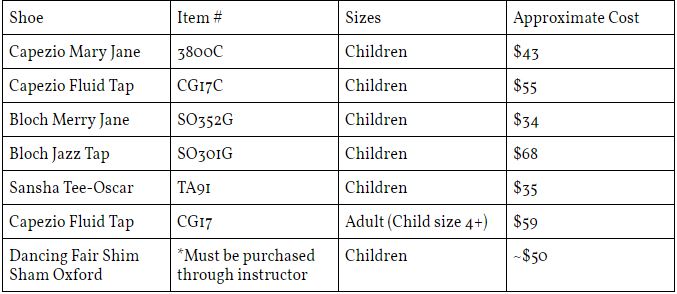 It is preferable that shoes have a leather sole and leather upper.
Please do not purchase split sole shoes, tap sneakers, or high-heeled shoes.
Rhythm Tap and Percussive Movement @EzraGuitar